Amazing Features
Heron Springs Concierge App provides convenience and ease of use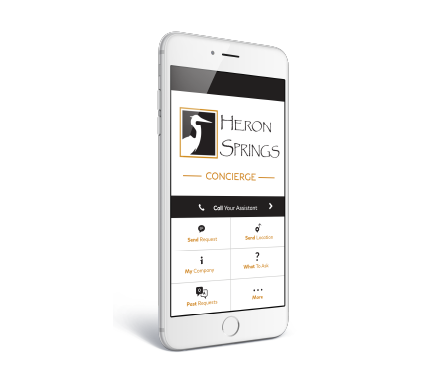 Simple Registration
Just enter your registered phone number and you're ready to start interacting with your team of Personal Assistants.
Multiple Response Channels
Your team of Personal Assistants can provide the response to your requests over the phone, by email, by text or in any combination you wish.
One-Touch Calling
Be directly connected with your team of Personal Assistants with a single touch of a button.
Geolocation Sharing
You may select to share your geolocation when you call or submit requests to enhance your experience and expedite your requests.
Submit Requests Electronically
Heron Springs Concierge App gives users the ability to submit requests electronically through the app instead of calling in.
Relevant Company Info
Quickly access important information for the company that gave you access to your Heron Springs Concierge Service.
Popular Requests
Although these are some of our most popular requests, we encourage you to think outside the box when contacting your team of Personal Assistants to make your life easier.

Directory Assistance

Appointment Reminders

Travel Arrangements

Tee Times

Dining Suggestions

Weather Forecasts

Sports Scores

Event Tickets

Dining Reservations

Directions / Traffic

Price Comparisons

Emergency Assistance
...And Anything Else You Can Possibly Imagine
Technical Support
*Heron Springs Concierge App will only work on smartphones that have an active Concierge account. If you have not yet activated your Concierge account, please contact the company that gave you access to the Concierge Service.
If your experiencing issues downloading / installing / using the Live Assist App or
have any other questions or concerns, please fill out the contact form below.
To better help us resolve your concerns, please be as detailed as possible.